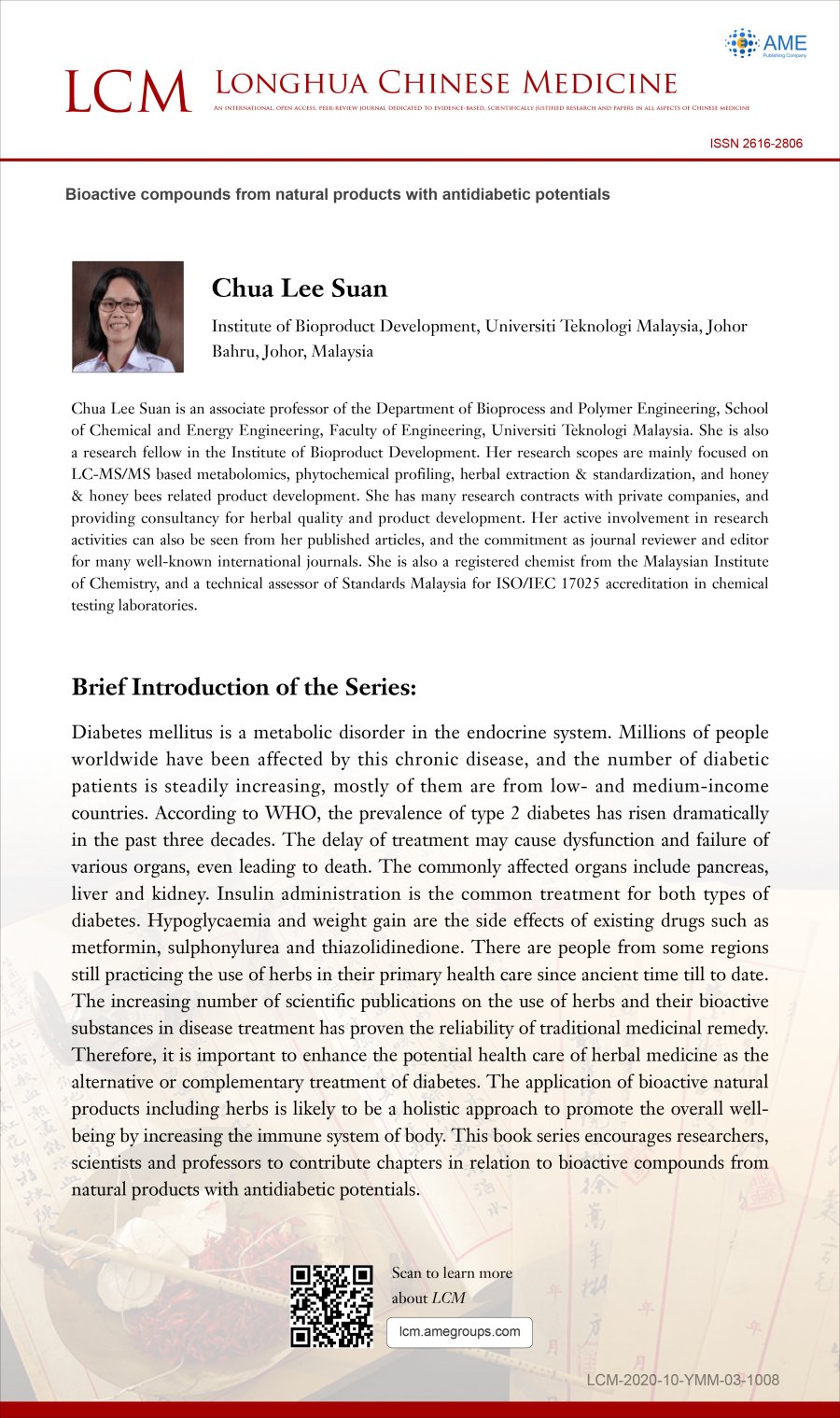 The series on "Bioactive Compounds from Natural Products with Antidiabetic Potentials" is edited by Dr. Chua Lee Suan (Institute of Bioproduct Development, Universiti Teknologi Malaysia, Johor Bahru, Johor, Malaysia).
Chua Lee Suan is an associate professor of the Department of Bioprocess and Polymer Engineering, School of Chemical and Energy Engineering, Faculty of Engineering, Universiti Teknologi Malaysia. She is also a research fellow in the Institute of Bioproduct Development. Her research scopes are mainly focused on LC-MS/MS based metabolomics, phytochemical profiling, herbal extraction & standardization, and honey & honey bees related product development. She has many research contracts with private companies, and providing consultancy for herbal quality and product development. Her active involvement in research activities can also be seen from her published articles, and the commitment as journal reviewer and editor for many well-known international journals. She is also a registered chemist from the Malaysian Institute of Chemistry, and a technical assessor of Standards Malaysia for ISO/IEC 17025 accreditation in chemical testing laboratories.
Brief Introduction of the Series:
Diabetes mellitus is a metabolic disorder in the endocrine system. Millions of people worldwide have been affected by this chronic disease, and the number of diabetic patients is steadily increasing, mostly of them are from low- and medium-income countries. According to WHO, the prevalence of type 2 diabetes has risen dramatically in the past three decades. The delay of treatment may cause dysfunction and failure of various organs, even leading to death. The commonly affected organs include pancreas, liver and kidney. Insulin administration is the common treatment for both types of diabetes. Hypoglycaemia and weight gain are the side effects of existing drugs such as metformin, sulphonylurea and thiazolidinedione. There are people from some regions still practicing the use of herbs in their primary health care since ancient time till to date. The increasing number of scientific publications on the use of herbs and their bioactive substances in disease treatment has proven the reliability of traditional medicinal remedy. Therefore, it is important to enhance the potential health care of herbal medicine as the alternative or complementary treatment of diabetes. The application of bioactive natural products including herbs is likely to be a holistic approach to promote the overall well-being by increasing the immune system of body. This book series encourages researchers, scientists and professors to contribute chapters in relation to bioactive compounds from natural products with antidiabetic potentials.
Disclosure:
The series "Bioactive Compounds from Natural Products with Antidiabetic Potentials" was commissioned by the editorial office, Longhua Chinese Medicine without any sponsorship or funding. Chua Lee Suan is serving as the unpaid Guest Editor for the series.