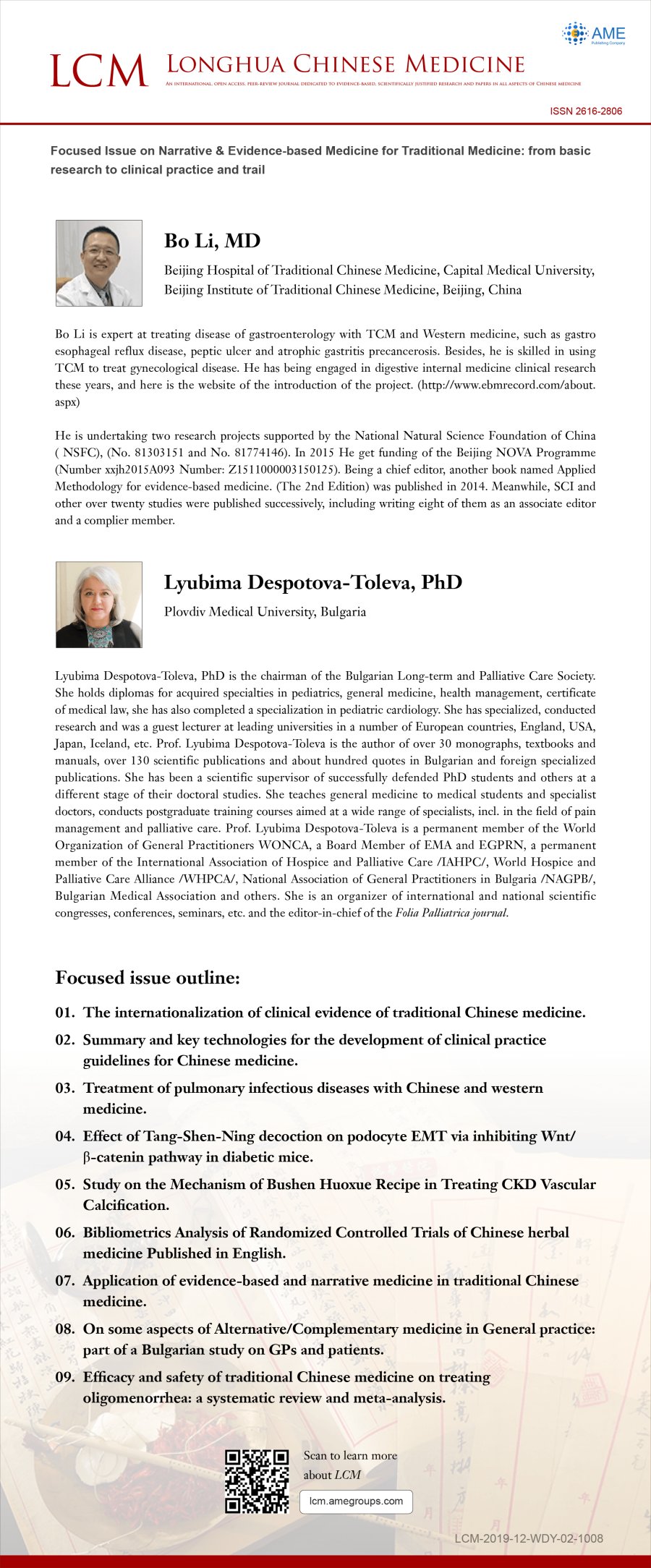 This Focused Issue on "Narrative & Evidence-based Medicine for Traditional Medicine: from basic research to clinical practice and trail" is edited by Dr. Bo Li and Dr. Lyubima Despotova-Toleva.
Bo Li, MD
Beijing Hospital of Traditional Chinese Medicine, Capital Medical University, Beijing Institute of Traditional Chinese Medicine, Beijing, China
Bo Li is expert at treating disease of gastroenterology with TCM and Western medicine, such as gastro esophageal reflux disease, peptic ulcer and atrophic gastritis precancerosis. Besides, he is skilled in using TCM to treat gynecological disease. He has being engaged in digestive internal medicine clinical research these years, and here is the website of the introduction of the project.(http://www.ebmrecord.com/about.aspx)
He is undertaking two research projects supported by the National Natural Science Foundation of China ( NSFC), (No. 81303151 and No.81774146). In 2015 He get funding of the Beijing NOVA Programme (Number xxjh2015A093 Number:Z1511000003150125). Being a chief editor,another book named Applied Methodology for evidence-based medicine.(The 2nd Edition) was published in 2014. Meanwhile, SCI and other over twenty studies were published successively, including writing eight of them as an associate editor and a complier member.
Lyubima Despotova-Toleva, PhD
Plovdiv Medical University, Bulgaria
Lyubima Despotova-Toleva, PhD is the chairman of the Bulgarian Long-term and Palliative Care Society. She holds diplomas for acquired specialties in pediatrics, general medicine, health management, certificate of medical law, she has also completed a specialization in pediatric cardiology. She has specialized, conducted research and was a guest lecturer at leading universities in a number of European countries, England, USA, Japan, Iceland, etc. Prof. Lyubima Despotova-Toleva is the author of over 30 monographs, textbooks and manuals, over 130 scientific publications and about hundred quotes in Bulgarian and foreign specialized publications. She has been a scientific supervisor of successfully defended PhD students and others at a different stage of their doctoral studies. She teaches general medicine to medical students and specialist doctors, conducts postgraduate training courses aimed at a wide range of specialists, incl. in the field of pain management and palliative care. Prof. Lyubima Despotova-Toleva is a permanent member of the World Organization of General Practitioners WONCA, a Board Member of EMA and EGPRN, a permanent member of the International Association of Hospice and Palliative Care /IAHPC/, World Hospice and Palliative Care Alliance /WHPCA/, National Association of General Practitioners in Bulgaria /NAGPB/, Bulgarian Medical Association and others. She is an organizer of international and national scientific congresses, conferences, seminars, etc. and the editor-in-chief of the Folia Palliatrica journal.
Focused issue outline:
The internationalization of clinical evidence of traditional Chinese medicine.
Summary and key technologies for the development of clinical practice guidelines for Chinese medicine.
Treatment of pulmonary infectious diseases with Chinese and western medicine.
Effect of Tang-Shen-Ning decoction on podocyte EMT via inhibiting Wnt/β-catenin pathway in diabetic mice.
Study on the Mechanism of Bushen Huoxue Recipe in Treating CKD Vascular Calcification.
Bibliometrics Analysis of Randomized Controlled Trials of Chinese herbal medicine Published in English.
Application of evidence-based and narrative medicine in traditional Chinese medicine.
On some aspects of Аlternative/Complementary medicine in General practice: part of a Bulgarian study on GPs and patients.
Efficacy and safety of traditional Chinese medicine on treating oligomenorrhea: a systematic review and meta-analysis.